Fiberglass Stair Treadsrails
Welcome to Kentec Composites, your premier destination for top-quality Fiberglass Treads and Stair Covers. As industry leaders in fiberglass solutions, we bring you a comprehensive range of products designed to elevate safety, durability, and aesthetics at every step. Let's take a closer look at our fiberglass stair treads and covers, where innovation meets reliability.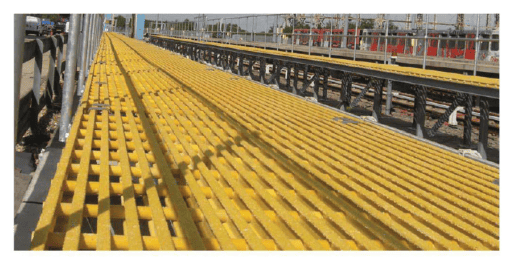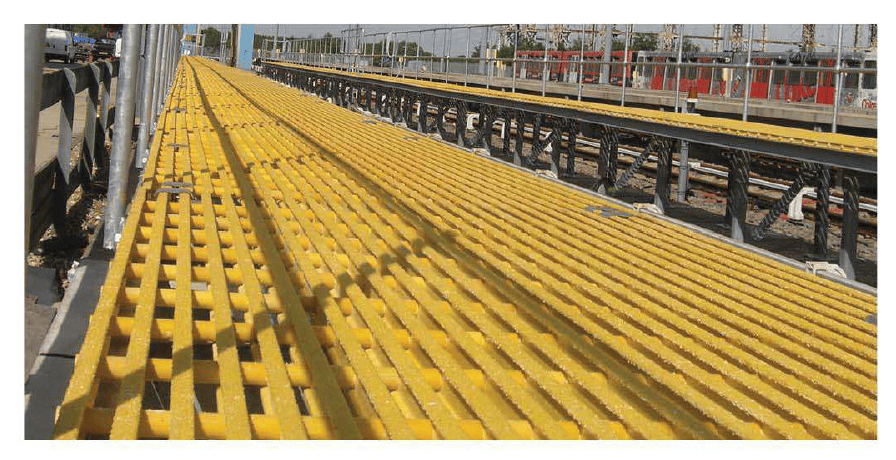 Types of Fiberglass Stair Treads and Cover Products
Molded FRP Stair Treads: Our Molded FRP Stair Treads are crafted with precision, offering uniformity and durability. These treads provide a secure and reliable surface for various applications, combining strength with a sleek design.
Pultruded FRP Stair Treads: For those seeking a lightweight yet robust solution, our Pultruded FRP Stair Treads deliver the perfect blend. These treads excel in high-strength applications, providing versatility and resilience in challenging environments.
Covered Fiberglass Stair Treads: Experience the fusion of aesthetics and durability with our Covered Fiberglass Stair Treads. The added protective covering enhances resistance, making them ideal for high-traffic areas where both style and longevity matter.
FRP Stair Covers: Our FRP Stair Covers offer a cost-effective solution to enhance safety and longevity. These covers provide slip resistance and protection against wear and tear as they are designed to fit seamlessly over existing stairs.
Applications of Fiberglass Stair Tread & Covers
Explore the diverse applications where our fiberglass stair treads and covers excel:
Amusement Parks and Water Parks: Our products provide a safe and reliable solution for staircases in areas with constant exposure to water and high foot traffic.
Hotels/Motels: Elevate the safety and aesthetics of stairways in hospitality settings with our durable and stylish fiberglass treads.
Oil Refineries: In industrial environments with high chemical exposure, our corrosion-resistant treads stand resilient, ensuring durability in challenging conditions.
Outdoor Stairways: For outdoor spaces subjected to weather elements, our treads and covers offer durability and slip resistance, ensuring a secure surface.
Outdoor Sports Facilities: From stadiums to sports arenas, our products provide a reliable and secure surface for staircases in outdoor sports facilities.
Restaurants: Create a safe environment for patrons and staff with our slip-resistant and stylish fiberglass stair treads.
Food Processing Facilities: In areas where hygiene is crucial, our low-maintenance treads offer a reliable solution for maintaining a clean and safe environment.
Power Plants: In environments with high foot traffic and exposure to various elements, our treads and covers deliver durability and safety.
Water/Wastewater Treatment Facilities: For areas exposed to moisture and chemicals, our corrosion-resistant treads ensure longevity and reliability.
Advantages of Fiberglass Stair Treads & Covers
Discover the numerous advantages that set our fiberglass stair treads and covers apart:
Ease of Installation: Designed for easy installation, our fiberglass treads and stair covers minimize downtime and disruptions, ensuring a smooth process for our clients.
Slip Resistant, Safe Surface: Safety is paramount. Our products provide a slip-resistant surface, ensuring a secure environment for users in both indoor and outdoor settings.
Durability: Crafted from high-quality materials, our treads and covers are built to stand against heavy use and challenging environments, ensuring longevity and reliability.
Impact Resistant: Experience the robustness of fiberglass – our treads are impact-resistant, ensuring durability in high-traffic areas.
Low Maintenance: Bid farewell to constant upkeep. Our low-maintenance treads and covers retain their quality over time, reducing the need for frequent maintenance.
Easy to Cut: Tailor our treads to your specific requirements with ease. Our products are designed to be easily cut and customized to fit your unique staircase dimensions.
Corrosion Resistant: In corrosive environments, our treads and covers provide a corrosion-resistant solution, ensuring a longer lifespan.
Lightweight: Enjoy the benefits of a lightweight solution without compromising on strength. Our fiberglass treads and covers provide a perfect balance.
Low Conductivity: In areas where electrical conductivity is a concern, our non-conductive fiberglass treads offer a safe and reliable solution.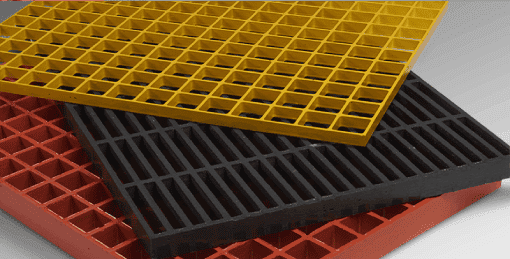 Fiberglass Plates
In addition to our comprehensive range of stair treads and covers, we also offer high-quality Fiberglass Plates. These plates are crafted with the same dedication to quality and durability, providing a versatile solution for various industrial applications.
Why Choose Kentec Composites for Fiberglass Stair Treads & Covers?
Expertise: With years of experience in the industry, Kentec Composites is a name you can trust for top-quality fiberglass solutions.
Customization: We understand that every project is different. Our products can be customized to meet your specific design and dimension requirements.
Quality Assurance: At Kentec Composites, we prioritize quality. Our fiberglass stair treads and covers undergo rigorous testing to ensure they meet and exceed industry standards.
Customer Satisfaction: Our dedication to providing maximum customer satisfaction is unwavering. From clear communication to transparent processes, we ensure a positive experience for our clients.
Choose Kentec Composites for your Fiberglass Treads & Stair Covers and Fiberglass Tread Plates. Let us be your partner in creating secure, stylish, and durable solutions for your staircases and beyond. Contact us now and experience the excellence of fiberglass innovation.